ALFA-Automation Co., Ltd.
55/594 Moo 7, Navamin Rd.,
Klong-Kum Bueng-Kum,
Bangkok 10230 Thailand
Tel : +66-2946-7458
Fax : +66-2519-5643
info@alfa-automation.com
Best Possible Process Economy with
ALFA - Handling Systems

The automation of manufacturing processes with a complex control engineering to improve the economy is not a challenge but our daily business.
Automation of an Exposure Line.
The oven A loads both exposures B + C with PCBs .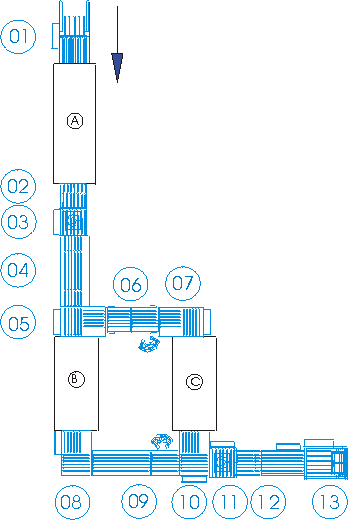 Description example for Application
01
Horizontal loader ALFAMAT 1

A
Oven

02
Acceleration belt
ALFAMAT 9

03
Rotator
ALFAMAT 7

04
FIFO - Buffer
ALFAMAT 8

05
Turn unit
ALFAMAT 6

06
Hinged conveyor
ALFAMAT 9

07
Turn unit
ALFAMAT 6

B
Exposure

C
Exposure

08
Turn Unit
ALFAMAT 6

09
Hinged conveyor
ALFAMAT 9

10
Turn unit
ALFAMAT 6

11
Rotator
ALFAMAT 7

12
Acceleration belt
ALFAMAT 9

13
Vertical unloader
ALFAMAT 4